The John and Pit Lucking Family Professorship provides support for research and training at Northern Arizona University. Dr. Catherine "Kitty" Gehring, CAWL co-director and professor in the Department of Biological Sciences, is the first Lucking Family Professor. The professorship is advancing the use of beneficial soil microbes to address ongoing challenges, such as improving restoration outcomes for plant communities devastated by drought, high temperatures and non-native species.
The Lucking Family Professorship supports the work of the Gehring Lab by providing funding for research assistantships, travel, and field and classroom supplies. For example, the Lucking Professorship is funding a research assistantship for a semester for Gillian Trimber, a master's student, while she collects and processes pinyon cones and seeds and establishes methods for growing seedlings.
"I am very excited and grateful to be involved in research that has the potential to solve serious problems resulting from climate change in the Southwest," said Gillian Trimber, who is an NAU master's student in the Department of Biological Sciences. "With support of the Lucking Family Professorship, I am part of two efforts to improve restoration outcomes for pinyon-juniper woodlands that are struggling because of drought and fire."
This semester Gillian will assist with two research projects seeking to improve restoration outcomes for pinyon-juniper woodlands. The first project is a partnership with Navajo Technical University and the Forest Service to examine how soil fungi can help pinyon pines overcome drought.
The second project is a collaboration with the U.S. Geological Survey, Mesa Verde National Park, and the Ute Mountain Ute. Pinyons and junipers have not re-established well following severe fires nearly two decades ago on Mesa Verde National Park and Ute Mountain Ute lands. The research team is investigating how fire has affected fungal and biological soil crust communities and will implement restoration trials using these groups of microbes on the basis of what is learned.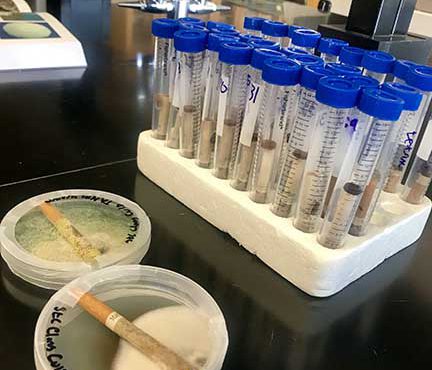 The Lucking Family Professorship has also supported travel, DNA sequencing, and classroom supplies. It funded additional living specimens for a mycology couse, filling the lab with wonder and some much needed laughter during the ongoing pandemic. The support also allowed students to undertake cigarette butt decay studies with different species of fungi, with the goal of finding a fungi that can break down the butts, including the synthetic filters.
"I and my entire lab group are very grateful to John and Pitt not only for their generous support but also for their interest and enthusiasm for the work we are doing," said Kitty Gehring, Lucking Family Professor. "Their generosity has helped launch new projects that are engaging students and making a difficult semester a bit more enjoyable."